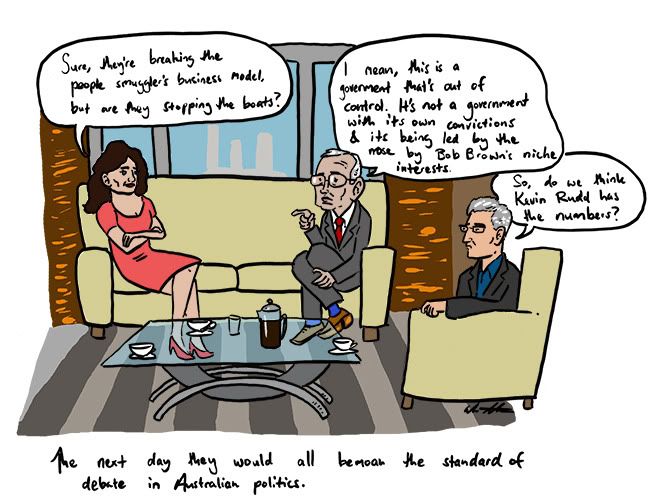 This is partly inspired by the lack of Insiders over the holiday period, and partly inspired by this argument I had with Latika Bourke on Twitter the other night (click to enlarge)...
It really frustrates me when journalists and commentators blame the tone of political discussion on politicians... Surely at least some of the blame must go to those whose job it is to educate and report. The tone and lexicon of political debate in parliament may set the agenda for what is reported, but going beyond the superficial is what journalism is all about.
If you're thinking I'm being unfair (and to a certain extent I am by just targeting Latika, for that I apologise, she's clearly not the only one, just the example I have at the moment), I'm wondering when we're going to start seeing journos on twitter giving regular updates of visa overstayers and the number of asylum seekers who arrive by plane.
If you're going to call the horse race, call the whole shebang - not just the horses that are easy to see.
------
Hey, it's almost Christmas! Why not buy some Dickhead Frenzy Christmas Cards to go on your presents?